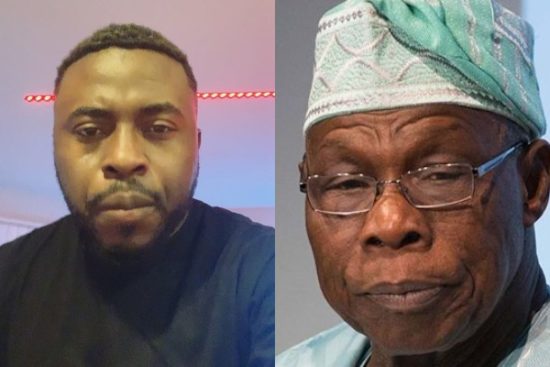 Any Youth Wey Say Obasanjo Nah Best President, No Know History – Samklef
Nigerian producer, Samklef has given reasons to why Obasanjo should be named the worst president Nigeria has ever had. 
Samklef took to Twitter to fire shots at former President Obasanjo stating that he would be in jail if Nigeria was a civilized country. He explained that Obasanjo should not be given credit for the entry of GSM in Nigeria but instead hail the private sector. According to him, Obasanjo instead sold the most expensive license ever recorded in the world. He added that before Dubai became the megacity it is today, the former head of state was approached by their government to borrow money but Obasanjo turned them down.
He also claimed that Nigeria is not a democratic country but instead the government still practices army arrangement democrazy government which was created by Obasanjo and which is the template practiced by the current administration. Samklef ended his talk by telling Nigerians to ask Obasanjo what he did with the money that was supposed to give Nigeria 24 hours light now that he is still alive.
See the tweets below:
Obasonjo wey be wan do third term if not for pressure any youths wey say baba iyabo no best president no know history that youth Na slave.

— PRESIDENT SAMKLEF (@SAMKLEF) May 11, 2020
Obasonjo did not bring GSM to Nigeria. It was a private sector initiative. Obasonjo sold the most expensive license ever recorded in the world. U people need to wise up and stop giving Credit to this men of no vision. pic.twitter.com/wxCTFC7IXs

— PRESIDENT SAMKLEF (@SAMKLEF) May 11, 2020
Go and look @ even his home town Ota look like Shrine.. obasonjo did nothing for naija stop praising him.

— PRESIDENT SAMKLEF (@SAMKLEF) May 11, 2020
We need to ask obasonjo what he did with the money that was supposed to give Nigeria 24 hours light now that he is still alive.

— PRESIDENT SAMKLEF (@SAMKLEF) May 11, 2020
Part 3. We are still practicing army arrangement democrazy which was created by obasonjo and that is the Template likes of buhari are using. Dey don buy 90 % Nigeria media. But can't buy social MediA. pic.twitter.com/UHDHSIDfEi

— PRESIDENT SAMKLEF (@SAMKLEF) May 11, 2020